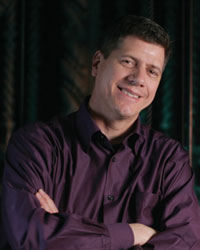 Stolen Moments
Wednesdays at 10 pm and Sundays at 9 pm on 90.1 FM HD1
Stolen Moments looks at and listens to the musical world without boundaries, eclectic in style just like the program's host Steven Stolen. The repertory and listening is varied, and the conversation is engaging and fun in an omnibus kind of hour long program. Some programs are thematic and others all over the map. Look for guests to drop in and report what they're listening to, liking and not liking, uploading and discarding and Stolen to dig for the kind of related banter, silly and serious, that will keep you listening on Sunday and Wednesday evenings.
About the Host
Steven Stolen is no stranger to WFYI audiences. His long running Opera Matinee had its first show on WFYI Public Radio in February 1993 as a temporary experiment and ran for more than 15 years. Stolen is a highly regarded singing artist in Indianapolis and beyond, and he merges his performing career with an entrepreneurial spirit, management skill and love of the community as the managing director of the Indiana Repertory Theatre. Those experiences combined with over two decades as a music professor, published author/editor, recording artist and all around "moving target" uniquely position him to launch this new program, Stolen Moments for WFYI audiences.
Stolen Moments for the Christmas Season

MP3 Download
This is a unique concert that promises to entertain. Enjoy a blend of traditional, new and surprising songs in this Special Edition of Stolen Moments recorded live December 9, 2012 at Sweeney Chapel on the Campus of Christian Theological Seminary.
Steven Stolen
Catherine Bringerud, Piano
Noelle Gosling, Violin
Songs for Christmas
• The First Nowell - English 14th Century/ Traditional
December Miniatures (words/ music by Richard Walters)
• Christmas Prayer
• Midwinter
• Christmas List
• The Eternal Face
• Five
• Concord
• The Last Night of the Year
Old Made New
• Wexford Carol – Irish/Traditional
• In the Bleak Midwinter – Gustav Holst, text by Christina Rossetti
• It Came Upon a Midnight Clear – English/Traditional
• Un flambeau, Jeanette, Isabelle – 17th Century Provencal Carol
• Deck the Halls – Old Welsh Carol, with Noelle Gosling, violin
An American Holiday Touch • Silent Night – Franz Gruber/arr. Walters